Message from the former President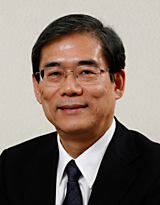 President
Junichi Hamada
The world today is facing a period of dramatic change. Universities, and academia in general, are tasked with the role of taking the lead to make this change one for the better. Recognizing this call from society, we have put forth the University of Tokyo Action Scenario FOREST2015, to guide us in our undertakings.
This action scenario holds up as its most important mission; the creation of "tough students with a true liberal arts education. " Our objective is to ensure that outstanding minds from around the world gather at the University of Tokyo, work hard to achieve their goals, and spread out across the globe. We wish to enhance the support for our graduate students in particular, to expand their opportunities for activities and interactions at an international level, and in so doing bring up world-class human resources.
To this end, the University of Tokyo is giving the Leading Graduate School Doctoral Programs the highest priority among our projects aimed at reinventing and reinforcing our graduate schools. I have taken up this initiative to provide strong support to these programs, through management and organization. Three Leading program proposals from the University of Tokyo were selected in the academic year of 2012, the second year for these programs.
One of these is the Leading Graduate Course for Frontiers of Mathematical Sciences and Physics (FMSP), which was selected as "only-one" category. Mathematics provides the fundamental language for all science and technology. In view of the complicated feature of our society today, we need leaders with global viewpoints aiming at the developments of mathematics for sciences of various disciplines. The FMSP program provides an ideal nurturing ground for students to cultivate wide-ranging viewpoints, unhindered by traditional academic boundaries, as well as the capacity to promote contributions of the frontiers of mathematical sciences to the fundamental issues that we face as a human society. The University of Tokyo hosts many research projects that lead the world in the field of mathematical sciences. We have also taken an innovative approach in cooperating with the industry to create a modern education program for graduate students, where the industrial-academic liaison has led to fruitful results in restructuring our education. We will take full advantage of this rich background in building up the FMSP program. It is our hope that the FMSP program will work to unite our other concurrent graduate education programs, to help us effectively push forward our graduate school reforms at the university level.
These graduate school reform programs will help us reinvent our graduate schools; to become a new training ground for creating innovative research and applying the knowledge in meaningful ways. By doing so, we will foster young leaders who will drive the sustainable development of human society. We anticipate that this new model for graduate school education will eventually spread out into the wider world.
Through such activities, the University of Tokyo seeks to carry out its social responsibilities for the future of Japan, and the rest of the world. We would like to take this opportunity to extend our gratitude for your continued support and understanding for our educational and scholarly endeavors.
January 2013
Junichi Hamada